Airships 5.3 has a bunch of stability improvements, and two major changes: The game now ships with its own Java Virtual Machine, which means it no longer relies on you having Java installed. And there's achievements, which work both in conjunction with Steam and on their own. (More on those below.)
Gearing up to release Airships on Steam means integrating the game with the Steam client and making sure it's delivered and launched correctly. I've been working on this heavily over the last few days, and I've now got something ready. The actual release on Steam will come in a few weeks, to coincide with v6, but I want to make sure that the Steam integration works well before that launch.
This means that I'm doing a private beta of Airships on Steam, open to anyone who has bought a copy of the game. I've got 40 beta slots available, and would be very thankful for people to sign up and test this stuff. If you're up for it, send me a message on the forums or an email, and I'll give you a beta key. Note that Steam keys will be available to everyone who's bought the game once the game launches, so you'll get to run it from Steam either way.
So right now, the game has nine achievements available. There will be more in the future, once certain features come online, and I'l also open to suggestions for additional ones.

Smash the Skies
Completely destroy an enemy ship by ramming it.

Forced Landing
Force down an enemy airship.

A Convenient Perch
Land your ship on a floating rock.

Heraldry
Register your coat of arms.

Mandatory Change of Ownership
Capture an enemy ship.

One Giant (Unplanned) Leap
Cause enemy marines to mis-jump and fall to the ground.

Broadside
Fire ten heavy cannon at once.

Conquer the 'Net
Win a multiplayer battle.

Dogfight
Win a multiplayer battle in the $200 fleet limit category.
So Airships development is currently running on two parallel branches: 5.3, which is much like 5.2 but with achievements and Steam integration, and 6.0, which has fancy new lighting and GUI. How's 6.0 coming along? Pretty well, I think: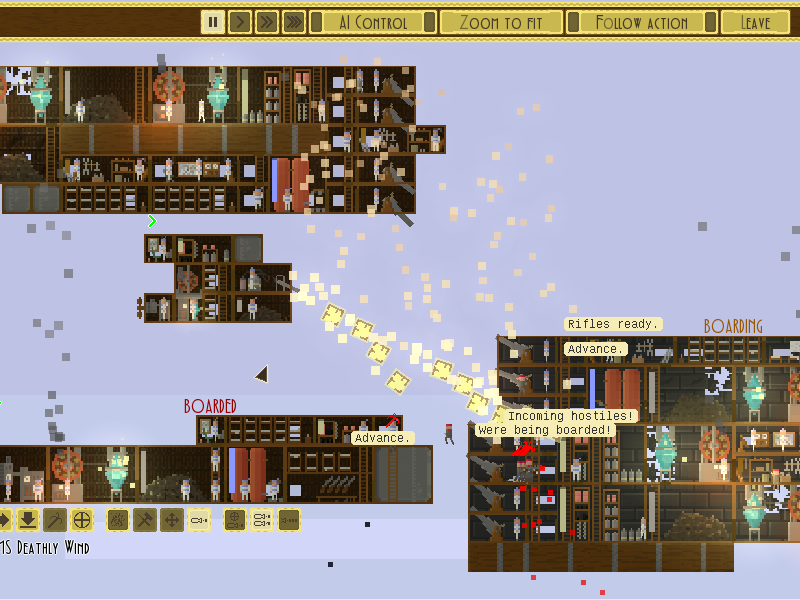 Like what you see? Want to be in the Steam beta? Want to buy the game before the price doubles with v6?