Clockwork Wasps
Their floating hives appear seemingly overnight. A floating bronze capsule with a giant mainspring in its centre. Man-sized mechanical wasps issue forth from it, harassing people and livestock, dismantling machinery where they find it. Each wasp is its own intricate clockwork held aloft by suspendium, powered by a spring that takes up most of its central body. Even so, the wasps have to frequently return to their hive to be re-wound by the mainspring, or they risk becoming sluggish and eventually inert.
Upon sensing danger to their hive, the wasps will swarm and attack the crew of your ships. Expect heavy casualties. Bring down the hive as quickly as possible, for without it, the wasps soon become harmless.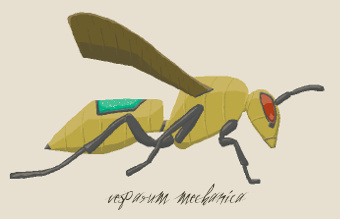 Reports from the disassembly of a few wasps found inert indicate that they are precise and uniform in their construction, except that there is some variation in material: different grades of brass, bronze, and steel are used, likely de­pend­ing on what the wasps can sca­venge from their environment. Even precious metals are employed, though in a way indifferent to their value. Whatever mechanism assembles them clearly prefers less malleable materials.
Much is yet unclear about these machines. Where do they come from? Who designed them? How do their clockwork minds - simple as they are - function? And what, or who, winds the hives' mainspring?