Monsters and Monster Nests
Apart from cities, the strategic map now contains monster nests, remote locations within city territories where a variety of menaces can take hold. Occupied nests reduce the income of the city, and some of them also conduct periodic raids, damaging the city and carrying away loot that lets them grow faster.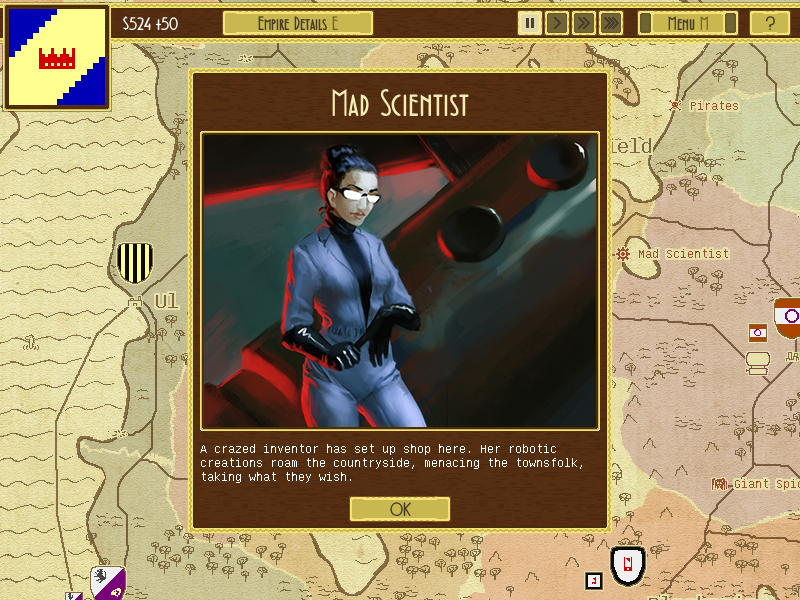 When your city is being raided, a bar appears at the top of the screen during combat indicating how badly the city has been looted. The sooner you can get the raiders to retreat, the better. Ideally, you wipe out the raiders entirely so they can't carry home the loot.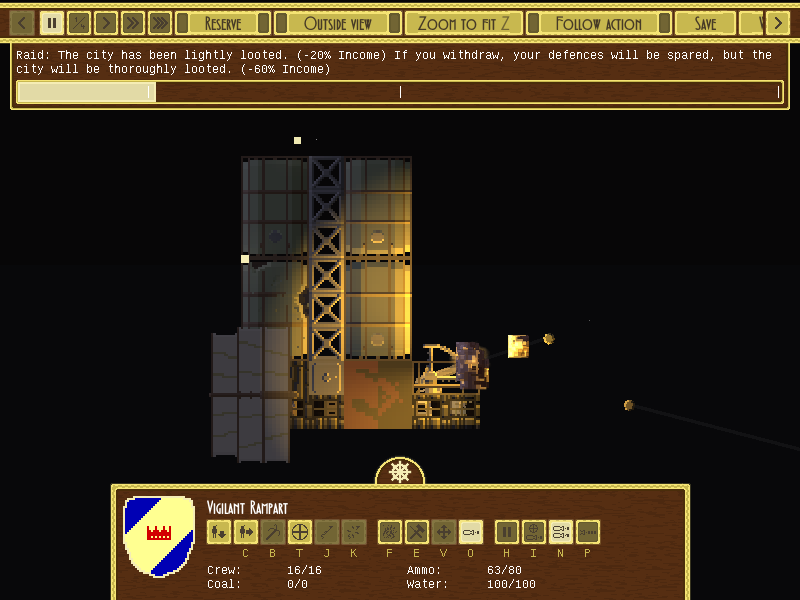 Monster nests grow over time, and the only permanent solution is to send a fleet to wipe them out. You will have to do so to strengthen your empire.
And what are those monsters like? To answer this question, I have prepared a bestiary entry for each of them, scattered throughout this post.

Bestiary: Pirates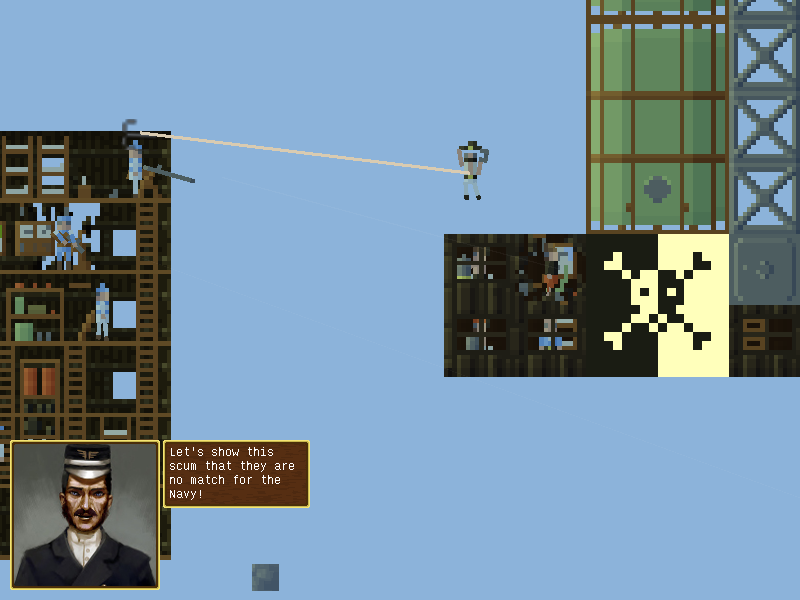 Alliances
As conquests proceed and empires begin to dominate, weaker states will now band together into alliances, seeking to match the strength of their opponents. This means that getting a head start on conquest is no longer enough to win, as the remaining cities will unify against you, keeping the outcome of the game in the balance for longer.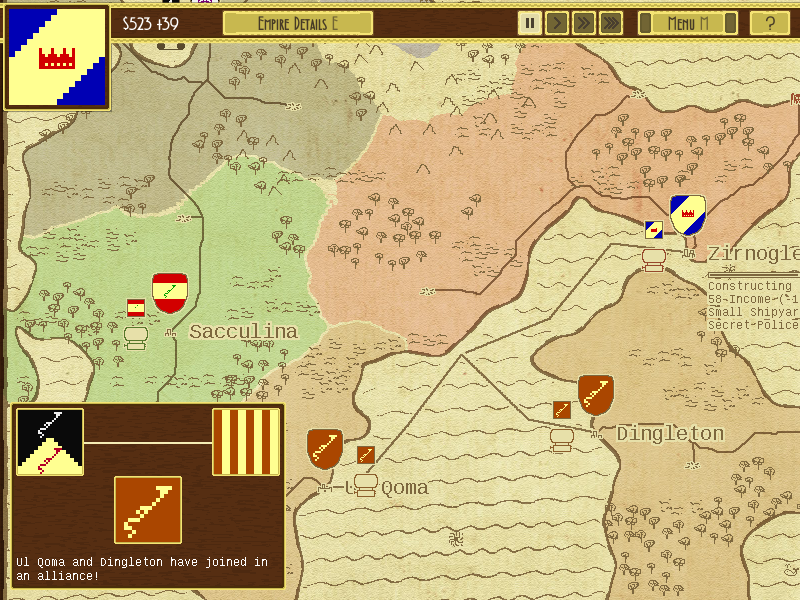 When two empires merge, the new alliance has a coat of arms that incorporates the arms of its constituents, according to proper heraldic rules.

Bestiary: Fleshcrackers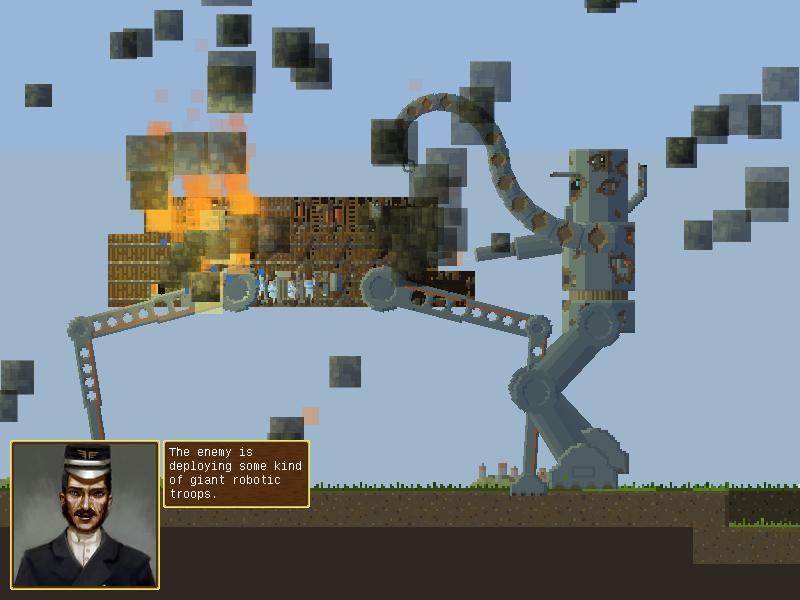 Missions
Players can now create and share custom challenges. Each mission is a combat scenario against some opponents, using either a fixed fleet, a budget to put together your own, or a mixture of the two. You can edit every aspect of the scenario, including the weather, terrain, heraldry and the intelligence of the opponent. Monsters can be placed into missions, and the entire thing is compatible with mods: you can create missions that use mods, and you can put missions into your mods to showcase your additions.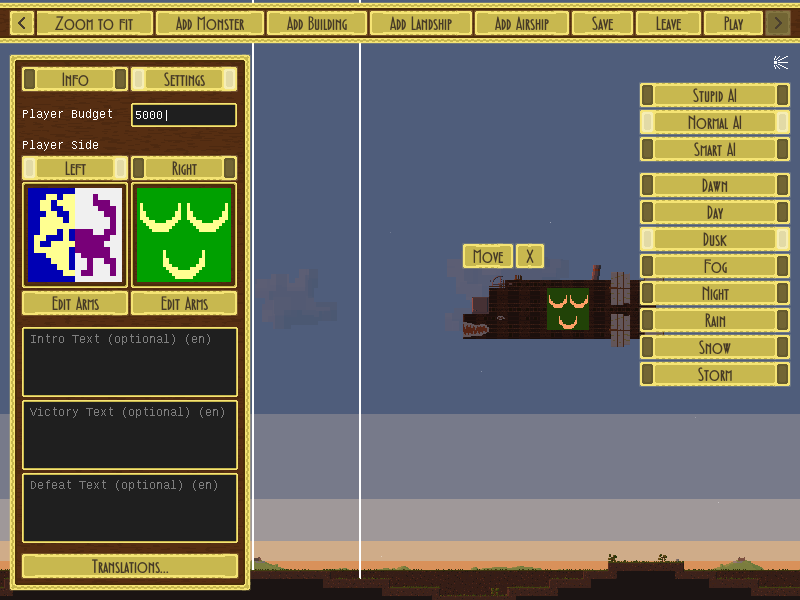 Missions can be shared via Steam workshop or exported as files, and unlike modding, no external tools are needed to create them. So you can create missions as simple as "I made a ship, can you beat it within this budget", or as complex as a finely tuned and landscaped battle making extensive use of mods.

Bestiary: Dragons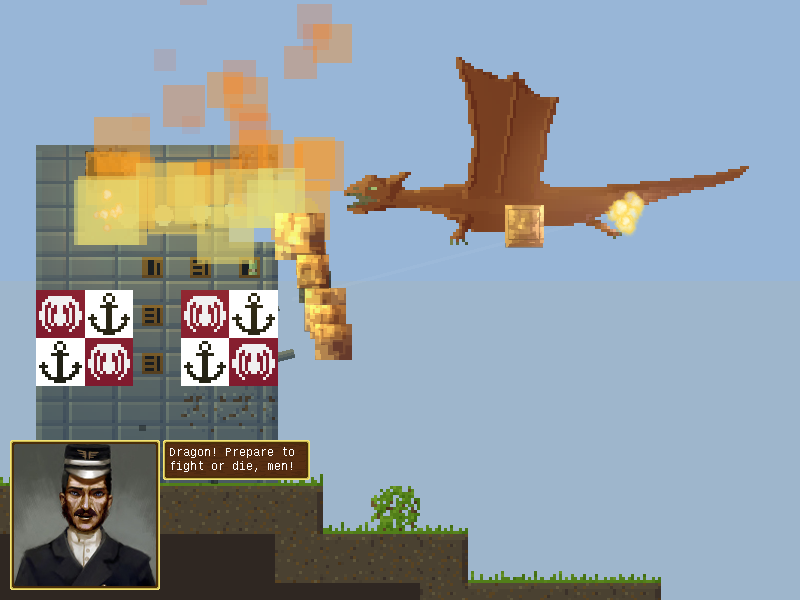 Music
This update adds five new tracks by Curtis Schweitzer, played to accompany particular monsters.
Additional Improvements
The lighting system has been updated to use ambient light, giving the graphics a more unified look.
Damage to external parts such as sails and chimney is now more visible.

The ship editor now supports undo/redo and has a new overlay indicating the paths crew can take. In general, the GUI's been refined based on player feedback.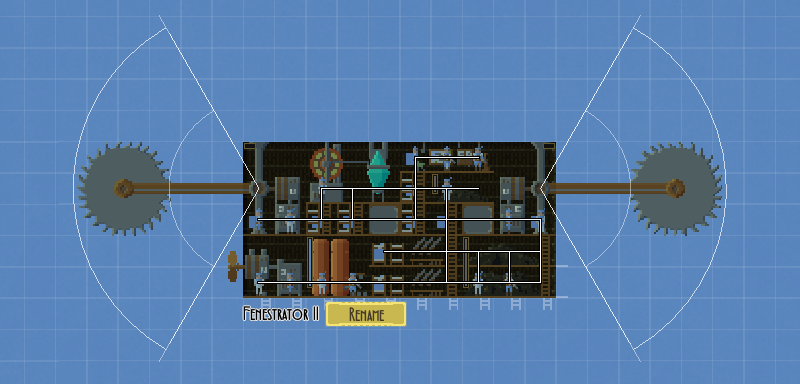 The game loads a lot faster, by about a factor of five. This is done by using uncompressed graphics, which also means the install size is somewhat larger, but still pretty moderate.
Boarder pathing and leg placement have been improved, and airships no longer timidly brake to avoid harmless collisions.
Your crew will now occasionally pop up in the bottom left corner during combat to express their feelings.

Bestiary: Giant Spiders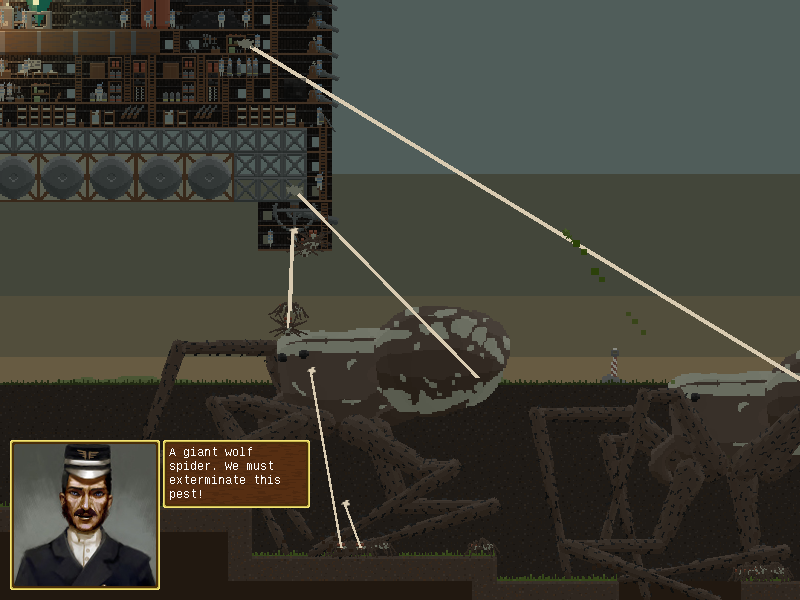 Want a complete list of changes? Here it is, concatenated together from all the beta versions.
(

Close

)
New music by Curtis Schweitzer!
Landships no longer randomly fall over when reaching their destination.
Ships that were set to "Hold Fire" no longer instantly shoot a huge number of rounds.
Placing land blocks no longer repeatedly charges you for the same block.
Suspendium tanks once again visible in editor.
Fixed ordering of external module elements when looking at ship inside.
Updated Chinese, Japanese and Russian translations. (Thanks!)
Reduced monster nest strength.
Empire mergers now less frequent and less intrusive.
Made tutorial a bit clearer and more reliable.
Pirates and brigand nests!
Some monsters now attack your cities, looting them more and more if you can't push back the attack.
Small empires now merge into alliances, which should make the endgame more interesting.
Better AI for short-ranged ships.
Moved ship edit errors into own area for better visibility.
Various graphical fixes.
Destroyed Suspendium tanks now look better.
Fixed multiplayer network desync.
Fixed crash when entering new strategic game setup.
Fixed crash in monster list.
Fixed file screen crash caused by invalid ship.
Fixed file screen crash caused by hitting up-arrow too quickly.
Fixed crash when confirming construction from defences screen.
Fixed mech-spider pathing crash.
Can now press K to toggle remove tool in construction editor.
Bonuses are now (somewhat) moddable, so you can add new ones for your new modules and armours.
HP penalty for large constructions is now indicated as a warning, and is moddable.
Fixed problem where loading mods in dev 9 would cause them to need to be regenerated in dev 8 every time.
Sped up game loading times. Note that speed-up benefits may only materialize on second launch. Note this might cause graphical errors. If things go weird colours or stop displaying after this update, or if loading actually takes longer, please tell me.
Mad scientist lairs with Fleshcrackers and Death Rays.
Bumping against screen edge to scroll is now optional. Existing users are asked if they want to keep or disable this functionality.
Multiplayer games now have a 3-second countdown before they start, so that the second player to declare ready has a moment to prepare.
Better calculation of victory/defeat in combat, I hope.
Confirm dialog for exiting from unfinished combat, and for exiting from the game altogether.
Buttons now more clearly show their shortcut keys.
The ship command buttons now show their shortcut keys below.
Non-graphics-related changes to mods will no longer cause the game to re-process all its graphics, making mod development faster.
Can now add monsters to missions.
Better crew boarder pathing.
Only showing applicable module and armour types in the filter list.
Button click sound for big buttons. Made click sounds quieter.
Undo-redo in the ship editor
Fixed bug where tracked landships were unable to move
German translation is up to date again
Can no longer incorrectly have bunks in landships and airships, only berths
Fixed incorrect display of some soldier limbs
Commanders and crew now occasionally pop up in the bottom left to deliver contextual messages.
New GUI for selection groups in combat, visible by pressing ctrl.
Fixed crash in combat related to tracked landships.
Increased ram and grand ram hit points.
Tracks now actually need to touch the ground to be able to propel their ship.
Fixed a crash in the ship editor.
Save shortcut in strategic menu is now V, and Send Spy shortcut is now P.
Eased off the large ship HP penalty - ships up to about 4000 weight now have full HP, after which it cuts in.
Modules now don't instantly explode but rather spend some time "about to explode".
Legs now get initialized correctly at the start of combats. No more landships and spiders crashing to the ground with tangled legs as combat starts.
Introduced an outer zone in the combat map where things cannot be placed to start with.
If you have a custom heraldic charge, you can now use it in strategic conquest mode, but you'll have to combine it with another charge to get a bonus.
Fixed a problem where ships colliding with trees would fail to damage the trees, remaining stuck.
Aerial torpedoes now require two ammunition per shot. This also lets modded super-guns have more balanced ammo consumption.
Generated landscape is smoother.
Game remembers which module categories were open.
Remove button now separate from item list in ship editor.
Damaged monsters now look noticeably injured, and die more dramatically.
Propellers, sails, and large chimneys now indicate damage level.
Module fragments now rendered with lighting.
Improved leg placement and balance logic.
Pathing overlay in editor, which gets automatically shown if ship is disconnected.
Can now choose which construction types are allowed in multiplayer combat.
Module search results now alphabetically sorted.
Can no longer use normal crew as boarders.
Game remembers multiplayer game name.
Added giant black widow spiders.
Added stars at night.
Struts now work less well to reinforce constructions and ram things.
Actual rams now do more damage than just ramming with some other module.
Large ships (weight 3000+) now suffer an increasing HP penalty due to lack of structural integrity. This can be partially offset by keels.
Monster nests should no longer grow indefinitely.
Monster nests are now placed more evenly.
Fixed crash caused by missing spritesheet variant. Specifically, the Karda's Weather System mod no longer crashes the game on low graphics settings, it just doesn't look quite right.
Moving a very small building no longer causes a crash. This may also improve stability in general.
Made particle drawing faster.
Refit/repair costs are now calculated correctly.
Fixed inability to open ship designs from Steam.
Air sailors in buildings have been replaced by soldiers. Quarters and berths have been replaced by barracks and bunks. Soldiers are tougher than air sailors, which should make buildings harder to defeat by boarding. (This last part may still need work.) (Also, do let me know if the substitution causes any problems, like crew not switching types, or being left in a weird state.)
Right/middle click and drag to move view.
WASD to move view. This also means that some shortcuts that were previously on those keys are now elsewhere. In particular, Save is now V and Start is now T.
Added tutorial about commanding multiple ships.
Spider legs (both biological and mechanical) now have an extra joint and move a bit better.
Harpoon charge for coats of arms.
Cut tether command button.
New launch config to force system cursor.
Reduced the income bonus from scales to 15%, but also actually implemented it. (Yeah. Turns out scales did not actually give you any bonus. Oops.)
Improved lighting system to vary ambient colour and saturation depending on time of day.
Modules at the bottom of a building are a bit stronger now.
Cities being pacified with a fleet present can no longer revolt.
Monster nests don't pop up again as quickly anymore.
Can now save incomplete missions, just not play them.
Can now move ship to other side in combat setup where appropriate.
Improved positioning and landship tutorials.
Ships no longer bother braking if the predicted impact is harmless, which means giving movement commands to ships in tight spots should be less frustrating now.
Circular range limit available for weapons.
Saw weapon now has better range calculation and a much wider arc.
Improved job assignment logic for crew, which should prevent crew members from getting stuck in a loop switching between two different jobs, doing neither.
Can now save ships with non-ASCII characters in their names.
Fixed strategic screen ship tooltip display.
Fixed weird tentacle movement when attacking ship hull.
Landships no longer completely lose their footing when turning around.
No longer showing unavailable modules like monster body parts in the ship filter dialog.
The resolution choices in the setting screen no longer incorrectly claim that their shortcut is ENTER.
Next Steps
With this major release out, what's next? There's a bunch of monsters that didn't make the cut which I'll be adding over the next weeks and months, creating bestiary entries as they appear. I also want to improve support for small monsters like the spiderlings.

Bestiary: Addenda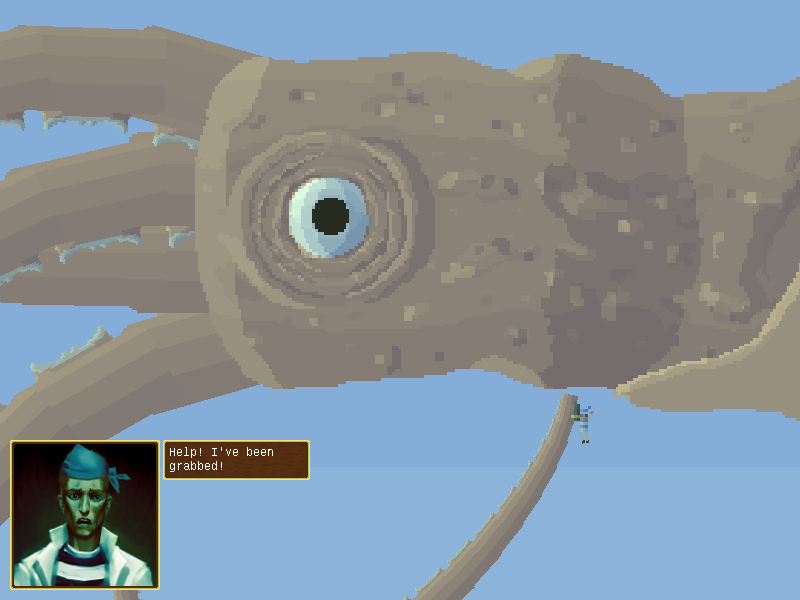 After that comes the final major development cycle before release, dev 10, where I'll be concentrating on further detail and balance for conquest as well as rounding out some other features. As always, the GUI, tutorial, and balance will be undergoing refinements. And then, version one point zero!

To victory, my steed!